---
Advertisement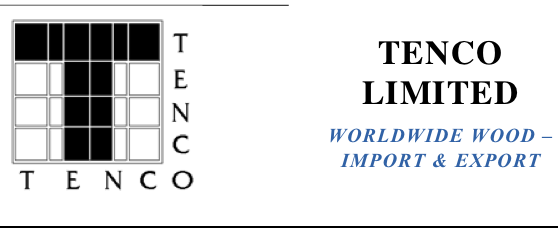 About Tenco
Tenco is one of New Zealand's largest exporters of forest products. We have built to this position since 1991 when the company was set up to export lumber to growing Asian export markets. Experience and reputation count; from small beginnings Tenco has become the largest independent exporter of New Zealand lumber and New Zealand's 4th largest log exporter. Tenco has a regular shipping program of their own log vessels and in combination with these and other ships currently calls at 7 New Zealand ports (5 North Island and 2 South Island).
Tenco buys standing forests. Tenco currently has a number of forests which they purchased at harvestable age to log over a number of years for export and domestic markets. Tenco also regularly buys smaller tracts of forest to harvest immediately or immature forests to hold until harvest time. Tenco is interested in broadening the base of owners from whom it purchases forests and stands of trees. A deal with Tenco is a certain transaction. The owner and Tenco will agree on a value of the tree crop and then Tenco will pay this amount to the owner either in a lump sum amount or on rate per volume unit out-turn from the forest depending on the nature of the tree crop.
Tenco knows there are a lot of farmers who have trees that are close or ready to harvest and will be asking themselves how they should proceed with the sale of their trees. For some farmers the kind of certain transaction with money in the bank could well be appealing. Tenco is actively interested in buying harvestable forests or trees from areas including all the North Island (except the Gisborne and East Coast districts) and Nelson & Marlborough in the South Island .
If you own a forest in this area (16 years and older) and are ready to enter into this kind of agreement Tenco is interested to develop something with you.
Please contact: Josh.Bannan@tenco.co.nz
Work: +64 7 357 5356 Mobile: +64 21 921 595
www.tenco.co.nz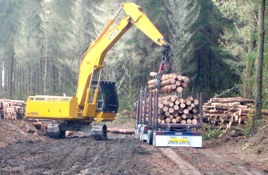 Market Report- February 2019
Record high log export prices with stable markets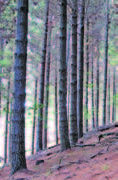 All-in-all we can say the log market is in very good shape. Domestic prices are holding tight at current levels and no one is talking up volume changes or prices. The domestic ship remains very steady with no storms or tempests to otherwise add to the pot of pitching and yawing.
Some sawmills are walking a fine supply line, in Canterbury and Northland in particular. One assumes forest owners are chasing the high export prices but I suspect that a lot of forests are being harvested early and domestic mills prefer older trees. Some forest companies are still trying to convince forest owners to harvest early. Other owners are taking advantage of historically high prices. Both scenarios are weighing in to a resource which would have been more ideally harvested in two, three or four years' time. As always there is a range of factors affecting log supply around the regions.
A record year
Export logs are enjoying some of the highest prices ever seen at the New Zealand wharf gate. However, the January selling price in CNF terms, that is landed in China in US dollars a cubic metre, is not the highest it has ever been. The price is currently US$138 to $139 for standard A grade shorts, but it has been as high as US$159 in the last three years.
The current wharf gate selling price is positively affected by a low exchange rate and low shipping cost. Forest owners can therefore enjoy some excellent price points from the domestic logs while the lower quality logs are at historically very high prices and mostly heading to China.
It is looking like 2018 has been a record year in volume terms. Last year at this time we were celebrating a record high of 19 million cubic metres of export log sales. However, 2018 is looking like it will be closer to 21.5 million cubic metres with a total of over 33 million cubic metres in total log production. Nationally this has us running at around 65 per cent export and 45 per cent domestic log sales, again a significant swing towards export.
Hopefully the current initiatives under operational trial, along with greenfields sawmill upgrades and new processing operations, we will see a swing back to domestic log sales. However, it is important to remember that over 65 per cent of logs sold to local plants and mill are exported in various forms and guises including the likes of timber, mouldings, medium density fibreboard, pulp and paper.
Little change
In terms of what we can expect in the first quarter of 2019 it is looking like little change. Chinese New Year always heralds in a period of uncertainty. This relates to how inventory will increase as workers head back to their homelands for their break.
Here is a review of the key elements in the market –
Domestic sawlog markets are good. No major price changes and demand is good with some respondents complaining about overly zealous price low-balling and poor margins in timber sales.
Pruned log prices have remained stable domestically but are dropping in China. The trade war is significantly biting into the furniture and mouldings markets between US and China and this is expected to continue.
Export sales at port side in China have increased by US$4 a cubic metre since October and likely to remain stable to slightly soft in February.
The combination of improved CNF prices, US/NZ dollar exchange rate movement and lower shipping costs since October 2018, has improved bottom line wharf gate prices by up to NZ$14 a cubic metre.
Shipping costs have softened by US$4 a cubic metre since October in response to over-supply capacity as a result of lower northern hemisphere volumes.
Domestic scene generally stable
Considering NZ Forestry Inc just lifted log production by 13 per cent, the conclusion might be there would be ample supply for local sawmills. Canterbury and Northland sawmills are running close to under-supply and some are predicting a deteriorating supply looming in other regions. The apparent causes are a dwindling resource together with forest owners targeting high export prices. In one case a local mill is being asked to pay up to $10 above the export equivalent to secure supply. This is hardly fair cricket I would have thought. I doubt some sawmill owners would accept there is a wall of wood out there, rather a looming under-supply.
It is also apparent in some regions that there is a very big swing from a corporate large forest estate to a small or medium privately-owned forest of around 20 to 1,000 hectares. In Wellington, Taranaki and central North Island, the problem seems to be a lack of contractors. In Northland some large-scale contractors are heading to smaller private forests and some relocating to get sustainable work.
The apparent price gap for framing grade logs between the North and South Islands continues. As with my last report, depending on who you talk to, it looks like $10 to $12 a tonne on average difference between the islands.
China prices stable but signs of weakening
The current softwood log inventory across the eastern seaboard of China is running at 3.3 million cubic metres from a mid-November low of 2.4 million cubic metres, with a significant increase expected in the lead- up to Chinese NewYear. At these increased levels the market would normally be moving to panic buy as the inventory represents about six or seven weeks of supply, much lower than normal. But a combination of the confidence China has in supply from New Zealand, together with uncertainties over trade wars, is flattening expectation and no-one is concerned.
The Chinese New Year period has workers returning to their homelands for about a month starting on 20 January. While port off-take never stops completely, daily sales are miniscule. In addition, during this time, the combination of log supplies from New Zealand, Australia, the Pacific North West, South America and Russia will be over two million cubic metres. Total inventory is likely to exceed 4.5 million cubic metres by the time the sawmills get cranking again.
Meanwhile US/China trade war deadlines have come and gone, more are looming, the chest beating appears to have dulled to a patter and there is almost a sense of kiss and make up. Whatever the reasons, the key powerhouse in China is manufacturing and for the first time in a long time, activity is retracting. Most commentators are suggesting the trade dispute is a likely main cause.
No dramatic changes
Meanwhile in the good old US of A, even in the event Mr Trump survives the wrath of unpaid government workers, there is little in key economic data which would suggest his long-term sustainability. That walls are being built then not, mixed with the realisations of the nett effects of trade wars on US consumers, the Trump honeymoon appears to be over. Main US economic forecasts are definitely gloomy. The now strengthening New Zealand dollar on the back of a weakening greenback will eventually come to pass at the forest gate in New Zealand.
For the moment the nett effect of all of the trade and economic performance in China is a now declining RMB pricing in timber which usually heralds a drop in log prices. But we can also have some confidence that China is now heavily invested in New Zealand forestry while manufacturing and construction are key components of the China economy. We can therefore expect the China government to intervene with continuing funding stimulus with a focus on these two key sectors.
There is a changing sentiment in China. The market mood is moving towards the pessimistic and main economic indicators are waning. There is a suggestion that the second and third quarters of 2019 could be interesting but it is also likely that price changes will not be dramatic. This is because the trade is affected by macro-economic factors rather than the behaviour of commodity trade and traders which we saw, now thankfully, in the distant past.
India and Korea stable
India economic factors are continuing to limit the log trade. A recent weakening economic growth report at 6.7 per cent and one per cent below forecasts, together with a weakening Rupee and reduced credit lines, has seen log shipments reduce by one or two a month. This now equates to there being about three vessels, or about 110,000 cubic metres being the monthly average volume currently. The 50,000 cubic metre average monthly reduction in volume is putting this market in a hold pattern for the moment.
The nett wharf gate price in New Zealand for India cargos is generally very similar to what is being achieved in China sales. Therefore, the month-by-month trade continues and now unlikely to change until after the elections. President Modi has not done well in recent polls despite having bought the India economy screaming and kicking in to an economic modernity. Most commentary is suggesting a change in government is unlikely to be helpful to broader economic performance and from that, I deduce the log trade.
Korea is also in the economic doldrums with growth slowing and the log trade reducing by about 25 per cent a year. Current monthly softwood log sales are around 250,000 cubic metres, still very respectable, but some way below the two million or more cubic metres going to China. On the basis that the Korea government is hell bent on trying to quell the construction sector and house prices, it is unlikely we will see great change in 2019.
Shipping costs under downward pressure
The broader world economic factors are certainly affecting shipping to New Zealand's current advantage. Freight rates have fallen about US$4 a cubic metre in the last three months and continuing weakness appears to be the order of the day.
I have recently seen 1:1 rates − one port load in New Zealand with one port discharge in China − well under US$25 a cubic metre. This has us back at levels four years ago and therefore likely to be unsustainable. Of course, all of this relates to demand and now northern hemisphere volumes are in decline and more ship owners are ringing New Zealand exporters.
Spot rates remain in the vicinity of $30 for normal 2:2 and 3:1 charters with most commentators suggesting these rates will hang around for another two or three months. Like all international trade, everyone now awaits the end of the 90-day trade war truce between China and the US with the nett effect of what happens next maintaining the levels of uncertainty and distrust. I do not see great change in the short term.
Enjoy the moment, we are going well
Despite the potential negativity ahead, even if prices come off the boil it would not be all bad. Unlike the six-week price spike in May and June 1992, the current markets are stable by comparison. Prices are high, demand is excellent and overall the broader market planets are in general alignment.
I have been saying in Forest Grower Levy Trust circles for some time that we, the industry, need to be investing heavily in market research and development. Whether we like or not, the massive construction phase in the China economy will have an end and we need to be coming up with a plan now to continue the growth of products and markets.
It is also seriously time to be sitting down with the government and coming up with an industry sustainability strategy. Just understanding the nett effects of a China construction sector at significantly below the current capacity would be useful. Determining how we might focus on products and markets would also be a useful conversation to have. In my view the forward focus has to be on manufacturing in New Zealand. I am sure at least Minister Jones will concur.
I would not want to be boringly repetitive but the adage holds true and is now never more important. The only way forward for climate, country and the planet is to get out there and plant more trees.
Log price table key
Understanding the figures (below)
Domestic prices are per tonne landed "at mill door".
Prices are GST exclusive.
Export prices are per JAS cubic metre landed "at wharf gate".
The absence of data reflects insufficient sales.
Prices above or below those indicated are entirely possible if wood quality exceeds or is below the normal market expectation.
P1 AND P2 grades are pruned logs with a minimum 40cm SED and 34cm SED respectively (note SED = Small End Diameter)
S30 and S20 grades are small branch logs with a minimum 30cm SED and 20cm SED respectively
L30/A30 grades are large branch logs with a minimum 30cm SED
K grade are export logs sold to Korea. KA grade is better grade log with a minimum 30cm SED. K grade are smaller standard multi purpose logs and KI is a large branch large Industrial log.
S30 price for Northern South Island relates to N35 grade
Radiata pine log sales
NZ$ per tonne

North NI

Central NI

South NI

North SI

Central SI

South SI

P1 (P36-P38)

172-192

175-190

170-180

172-180

167-175

175-185

S30

128-146

128-135

117-125

120-126

116-122

123-131

S20

116-121

111-116

101-106

109-113

96-101

-

L30/A30

101-110

-

-

-

95-105

100-105

Postwood

82-95

90-100

84-94

72-90

90-100

82-93

Chip

54-59

48-52

46-51

45-50

50-54

44-48

NZ$ per JAS
Pruned (P40)

192-197

194-199

182-187

184-189

174-179

176-182

Pruned (P32)

161-166

165-170

154-159

155-160

147-152

151-156

A grade

152-157

159-164

145-150

147-152

137-142

139-144

CS/KS

146-151

140-155

138-143

140-145

129-134

133-138

CI/KI

129-134

133-138

123-128

125-130

117-122

124-129

Pulp (CIS/KIS)

121-126

125-130

114-119

116-121

109-114

113-118

Comparing JAS and a tonne of logs

The conversion rate from a JAS cubic metre and a tonne of logs is usually about 0.95 although this can vary. It depends on −

Stem taper which, for example, is usually less in pruned than second or third log
Summer or winter
North Island or South Island
Soil fertility
Rainfall
Aspect such as sunny or shaded back face.

If we accept an average day, average site and the 0.95 conversion rate, an export log grade comparative for an S30 log sold domestically would need to be about $137 per JAS to compare with a $130 a tonne for a domestic sale.
Macrocarpa log sales
Macrocarpa logs
South Island
Landed at mill door/tonne
North Island
Landed at mill door/tonne
Pruned Min SED 40cm
$350 - $375
-
Pruned Min SED 30cm
$170 - $190
-
Small branch Min SED 30cm
$155 - $160
-
Small branch Min SED 20cm
$125 - $135
-
Large branch/Boxing/Sleeper
$115 - $120
-
Firewood logs
$75 - $80
-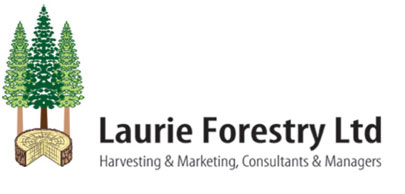 Allan Laurie is the managing director of Laurie Forestry Ltd with over 29 years experience in marketing logs for small to medium growers. www.LaurieForestry.co.nz
(top)