---
Advertisement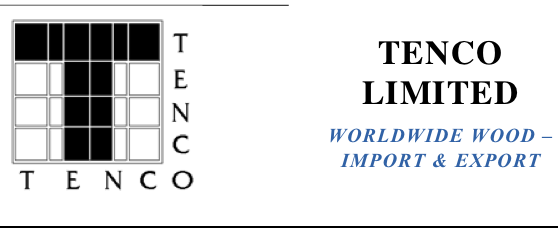 About Tenco
Tenco is one of New Zealand's largest exporters of forest products. We have built to this position since 1991 when the company was set up to export lumber to growing Asian export markets. Experience and reputation count; from small beginnings Tenco has become the largest independent exporter of New Zealand lumber and New Zealand's 4th largest log exporter. Tenco has a regular shipping program of their own log vessels and in combination with these and other ships currently calls at 7 New Zealand ports (5 North Island and 2 South Island).
Tenco buys standing forests. Tenco currently has a number of forests which they purchased at harvestable age to log over a number of years for export and domestic markets. Tenco also regularly buys smaller tracts of forest to harvest immediately or immature forests to hold until harvest time. Tenco is interested in broadening the base of owners from whom it purchases forests and stands of trees. A deal with Tenco is a certain transaction. The owner and Tenco will agree on a value of the tree crop and then Tenco will pay this amount to the owner either in a lump sum amount or on rate per volume unit out-turn from the forest depending on the nature of the tree crop.
Tenco knows there are a lot of farmers who have trees that are close or ready to harvest and will be asking themselves how they should proceed with the sale of their trees. For some farmers the kind of certain transaction with money in the bank could well be appealing. Tenco is actively interested in buying harvestable forests or trees from areas including all the North Island (except the Gisborne and East Coast districts) and Nelson & Marlborough in the South Island .
If you own a forest in this area (16 years and older) and are ready to enter into this kind of agreement Tenco is interested to develop something with you.
Please contact: Josh.Bannan@tenco.co.nz
Work: +64 7 357 5356 Mobile: +64 21 921 595
www.tenco.co.nz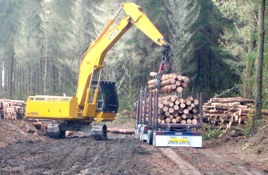 Market Report- August 2018
China prices softening Thank you, President Trump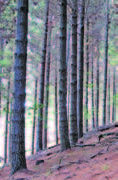 The big news this month does not make for happy reading with trade war tariffs and currency exchange rates biting hard into log price settlements in China. The rhetoric, sentiment and market intelligence change daily. It is possible that what we know in the last week of July at the time of writing may not be the case by the time you get to read this article in early August.
Nevertheless, the fundamentals of what we know will probably remain. Basically, the log prices in China are heading downwards at or about the level reflected in the degree to which the RMB, the China currency, has weakened against the US dollar. That is about US$10 a cubic metre for August settlements. Some commentary suggests if we follow recent patterns, the market may over-correct and we may yet see another US$5 a cubic metre drop in September.
The good news is that the domestic market is very strong and the fundamentals of China are looking good with consumption excellent and inventory generally dropping. Mind you, with US leadership heading the 'plonker' stakes imposing some interesting trade and commentary challenges, this is one time when we lack confidence as to what will happen in the future.
A review of the key elements to the market at present −
Domestic sawlog markets are very strong with no major price changes to report but demand is very robust and looks to be very stable
Domestic demand in roundwood posts and poles and chip log segments is very strong with prices increasing, in some regions quite significantly
Export sales on CNF basis at port side in China have probably dropped US$10 per cubic metre for August sales and more drops are likely
The US/NZ dollar exchange rate movement for the April to July period is from 69 cents to 68 cents improving the bottom line wharf gate prices by just under two dollars a cubic metre
Shipping remains highly uncertain coming off a spot rate high of mid US$30s a cubic metre but as costs are weakening nobody is prepared to say where this will end given the uncertainties of world trade at present
Wharf gate prices have weakened by between $5 and $7 a cubic metre as it applies in late July early August, but likely to go lower
India demand is tracking well with demand and prices strong with all expectations that this market will get 'hammered' as shippers divert volumes away from China and price drops will follow quickly.
Domestic scene very strong
While our log price table does not suggest any regional changes to sawlog prices, there are spot opportunities at an individual customer level across most grades. We are also seeing grade variation acceptance within existing grades.
For example, a traditional S30 sawlog − minimum small end diameter 30 cm − with a maximum acceptable branch size of seven centimetres is routinely being traded as S25 with a maximum branch of 10 cm at the earlier S30 grade value. For many woodlots this would see a significant value recovery change, proving once again the local sawmills are critical for the bottom line for forest growers.
A ring around my spies has suggested some big variations. For S30 or S25 framing grade logs the lowest price was $116 a tonne and the highest $146 a tonne. This is a very large variation for effectively the same sawlog grade.
For the first time in a long time, reports of some modest increases in chip or pulp logs has been noted. Increases of up to $5 a tonne have been reported with some commentary around more competitive demand and a new era of end users entering this space. The wood energy and dairy calf bedding sectors have been mentioned signalling perhaps a new era in residue usage and demand.
The most significant increase over the last quarter has been in the post and pole market. An example is the burgeoning demand in the beer hop industry in Nelson and the vineyard pole market. Nationally an apparent strain in supply has seen up to $20 a tonne increase over the last quarter although $5 to $10 may be the norm. Long may it continue.
China under downward pressure
While the current peak is around a US$10 a cubic metre drop in market prices, it is not all doom and gloom. Indeed, the market fundamentals remain positive. In terms of the eastern seaboard trade here are some comparatives −
Current daily consumption is continuing at 80,000 cubic metres compared to 70,000 cubic metres at the same time last year
Current softwood log inventory is 4.2 million cubic metres compared to 3.8 million at the same time last year
CNF price settlements look likely to finish up for August sales at US$135 per JAS cubic metre for A30 grade compared to $133 at the same time last year
Pruned logs are looking to take a significant hit with the imposition of tariffs heading off furniture sales from China to the US almost overnight. Demand has slowed significantly in this sector with some commentary suggesting drops in prices could be as ugly as US$20 a cubic metre. This would equate to NZ$30 at the wharf gate proving once again how exposed we are to the whim of those who impose their style of leadership on us.
At time of writing the sudden change in trading conditions has affected much more than just the price. In China, sentiment determines everything. Right now, sentiment plays out in buyers pulling back from contracts and Letters of Credit until they see where the market will drop to.
Trepidation and uncertainty
Meanwhile harvesting in New Zealand continues, the ships keep coming, and going. The nett result is a bank of vessels holding off China ports waiting for Letters of Credit and the market is viewing this with trepidation and uncertainty. At the current consumption levels something will give and this will be when the big New Zealand exporters finally settle on price. Again,at the time of writing that has not happened yet, so the US$10 drop expected is just that, an expectation rather than a reality.
Vessels waiting off ports cost shippers US$6,000 to $8,000 a day with cargos purchased or produced at US$145 and likely to be sold US$10 down. Now would not be a good time to be 'fessing up' to the bank manager. It would not be inconceivable for each vessel to be costing exporters over $500,000 is lost sales value and demurrage. This would be about $20 million wiped off the slate for August sales.
Shipping will be an important factor over the next couple of months. World trade uncertainties have slowed volumes very quickly with ship owners now coming to the log exporters negotiating table prepared to talk turkey.
Currently a drop of US$2 to US$3 a cubic metre down for September shipments is the market talk but this is yet to fully play out. With the telephone traffic in full swing and all eyes on the next developments, shipping companies might just have to stand in the queue. The slight weakening of the New Zealand dollar against the US dollar will also help exporters although the percentage variation is not great so will do little to soften the blow.
Swings and roundabouts
On the upside, for New Zealand suppliers some of the broader market effects lie in the combination of the handbags at dawn spat between US and China together with the sudden price drop playing out to our longer term advantage. On one hand US logs being shipped to China in containers are facing eye-watering phytosanitary impositions. Retaliation from China equals the big white gloved hand coming out, all sorts of unwanted pests being found and cargos being impounded or turned round. This has played out to the extent that volumes being shipped have dropped almost to the point of drying up completely taking the equivalent of two or three vessels a month out of the supply.
On the other hand, Uruguay has become a significant supplier to China with over five vessels a month of softwood logs. With the expected US$10 reduction, this supply can be expected to dry up very quickly. Uruguay cargos were only just running at break-even so even two or three dollars down would make life hard for them. These two supply sources suddenly leaving the market will have a medium term positive effect and probably mean the current negative situation will be short lived.
India market in good shape
India has been described as becoming very jittery. This is because when China turns, history normally repeat and other suppliers try to dump volumes in an attempt to divert losses away from China. As a three or four vessels a month market, India is very sensitive to additional shipments. If shippers send more than the market can handle, discounting will start or logs will sit on ports waiting for sales. Either way trend lines will echo China.
In terms of the bottom line, there is no major difference to nett back to New Zealand prices for sales to India versus China. This will probably mean India will simply follow along the trend path which may deter significant extra volume entering this market. Right now India consumption is good. Inventory is low and all key indicators would suggest once this current dust cloud has settled the market will continue to chug along at good levels.
A bit of a dip but fundamentals solid
As with every fully functioning market the odd pothole might be expected from time to time. The inevitability of such events suggests driving with caution and at the right speed would be very wise or significant damage could be the result.
Those in New Zealand who promote early harvest and try and encourage even more wood on to the market should take stock. Just for the record, there is no wall of wood and those who continue to promote this fallacy should retreat and retract.
For the period which lies immediately ahead we have this wonderful new effect called the Trump factor. This is unpredictable, often incoherent and certainly blinkered as to the broader effects of actions and consequences.
These elements of unpredictability should not divert us from long term plan. The bottom line for New Zealand forest growers remains strong with returns continuing well ahead of most other land use industries. Therefore, it has never been more important that the only way forward for climate, country and the planet is to get out there and plant more trees.
Log price table key
Understanding the figures (below)
Domestic prices are per tonne landed "at mill door".
Prices are GST exclusive.
Export prices are per JAS cubic metre landed "at wharf gate".
The absence of data reflects insufficient sales.
Prices above or below those indicated are entirely possible if wood quality exceeds or is below the normal market expectation.
P1 AND P2 grades are pruned logs with a minimum 40cm SED and 34cm SED respectively (note SED = Small End Diameter)
S30 and S20 grades are small branch logs with a minimum 30cm SED and 20cm SED respectively
L30/A30 grades are large branch logs with a minimum 30cm SED
K grade are export logs sold to Korea. KA grade is better grade log with a minimum 30cm SED. K grade are smaller standard multi purpose logs and KI is a large branch large Industrial log.
S30 price for Northern South Island relates to N35 grade
Radiata pine log sales
| NZ$ per tonne | North NI | Central NI | South NI | North SI | Central SI | South SI |
| --- | --- | --- | --- | --- | --- | --- |
| P1 (P36-P38) | 172-192 | 175-190 | 170-180 | 172-180 | 167-175 | 175-185 |
| S30 | 127-146 | 127-133 | 116-124 | 119-125 | 116-121 | 122-130 |
| S20 | 116-121 | 111-116 | 101-106 | 109-113 | 96-101 | - |
| L30/A30 | 101-110 | - | - | - | 95-105 | 100-105 |
| Postwood | 85-95 | 100-100 | 85-110 | 80-110 | 110-120 | 88-100 |
| Chip | 55-60 | 52-57 | 48-55 | 46-52 | 54-58 | 44-48 |
| NZ$ per JAS | | | | | | |
| Pruned (P40) | 179-184 | 183-188 | 170-175 | 172-177 | 162-167 | 166-171 |
| Pruned (P30) | 149-154 | 151-156 | 140-145 | 142-147 | 133-138 | 137-142 |
| A grade | 133-138 | 140-145 | 126-131 | 128-133 | 118-123 | 122-127 |
| CS/KS | 128-133 | 132-137 | 120-125 | 122-127 | 115-120 | 115-120 |
| CI/KI | 116-121 | 120-125 | 110-115 | 112-117 | 104-109 | 108-113 |
| Pulp (CIS/KIS) | 108-113 | 111-116 | 101-106 | 103-108 | 96-101 | 100-105 |
Comparing JAS and a tonne of logs
The conversion rate from a JAS cubic metre and a tonne of logs is usually about 0.95 although this can vary. It depends on −
Stem taper which, for example, is usually less in pruned than second or third log
Summer or winter
North Island or South Island
Soil fertility
Rainfall
Aspect such as sunny or shaded back face.
If we accept an average day, average site and the 0.95 conversion rate, an export log grade comparative for an S30 log sold domestically would need to be about $137 per JAS to compare with a $130 a tonne for a domestic sale.
Macrocarpa log sales
Macrocarpa logs
South Island
Landed at mill door/tonne
North Island
Landed at mill door/tonne
Pruned Min SED 40cm
$350 - $375
-
Pruned Min SED 30cm
$170 - $190
-
Small branch Min SED 30cm
$155 - $160
-
Small branch Min SED 20cm
$125 - $135
-
Large branch/Boxing/Sleeper
$115 - $120
-
Firewood logs
$75 - $80
-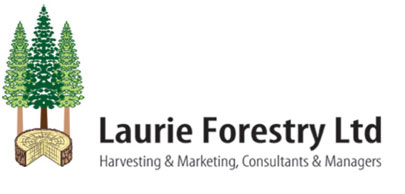 Allan Laurie is the managing director of Laurie Forestry Ltd with over 29 years experience in marketing logs for small to medium growers. www.LaurieForestry.co.nz