---
Advertisement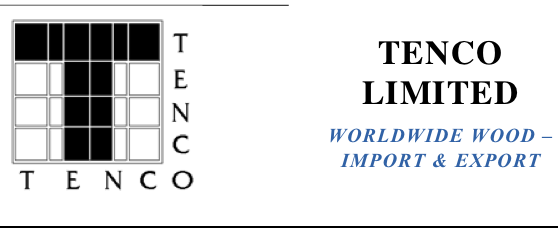 About Tenco
Tenco is one of New Zealand's largest exporters of forest products. We have built to this position since 1991 when the company was set up to export lumber to growing Asian export markets. Experience and reputation count; from small beginnings Tenco has become the largest independent exporter of New Zealand lumber and New Zealand's 4th largest log exporter. Tenco has a regular shipping program of their own log vessels and in combination with these and other ships currently calls at 7 New Zealand ports (5 North Island and 2 South Island).
Tenco buys standing forests. Tenco currently has a number of forests which they purchased at harvestable age to log over a number of years for export and domestic markets. Tenco also regularly buys smaller tracts of forest to harvest immediately or immature forests to hold until harvest time. Tenco is interested in broadening the base of owners from whom it purchases forests and stands of trees. A deal with Tenco is a certain transaction. The owner and Tenco will agree on a value of the tree crop and then Tenco will pay this amount to the owner either in a lump sum amount or on rate per volume unit out-turn from the forest depending on the nature of the tree crop.
Tenco knows there are a lot of farmers who have trees that are close or ready to harvest and will be asking themselves how they should proceed with the sale of their trees. For some farmers the kind of certain transaction with money in the bank could well be appealing. Tenco is actively interested in buying harvestable forests or trees from areas including all the North Island (except the Gisborne and East Coast districts) and Nelson & Marlborough in the South Island .
If you own a forest in this area (16 years and older) and are ready to enter into this kind of agreement Tenco is interested to develop something with you.
Please contact: Josh.Bannan@tenco.co.nz
Work: +64 7 357 5356 Mobile: +64 21 921 595
www.tenco.co.nz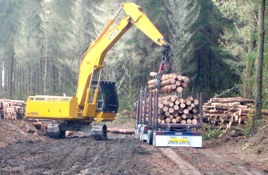 Market Report- November 2018
A pleasing turn-round - The market sound and stable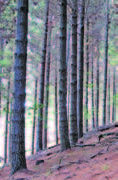 This a report is written at a time when it is pleasingly hard to find something meaningful to report other than pretty much business as usual. Indeed, boring is good. It is timely to remind ourselves that the current wonderful price era continues and is now the norm.
Export log prices have recovered back up to levels they were at back in March and April this year, at least in New Zealand dollars at the wharf gate. Domestic prices are holding firm despite some trade winds in the domestic sawmill scene, but more of that later.
As I indicated in my last Tree Grower report we were expecting the fundamentals of the market to remain largely in balance. This has pretty much played out
as expected, despite the shenanigans of an errant US President. The imposition of tariffs and getting the war chest out of the cupboard has certainly been causing levels of anxiety and uncertainty across the wood fibre sector internationally.
For our domestic sawmillers this is resulting in fewer export sales and heightened levels of squeezed credit. What we do not see in the media includes the banks de-risking via reduced credit lines and stricter Letter of Credits transaction rules. All of this impinges on the money-go-round and will ultimately filter down to the forest gate if it lasts.
Key elements
The overall market can be described a stable to slightly firm although some of the increase in export sales prices at the New Zealand wharf gates does not relate to increase in real prices in China. Instead, a very small drop in shipping rates and a lower exchange rate have been the prime catalysts.
A review of the key elements to the market at present −
Domestic sawlog markets are good, with no major price changes and the demand is good to just coming off the boil slightly in some regions. Pruned log prices remain depressed in response to tariff impositions hurting China furniture and mouldings components into the US, with smaller increases in prices at the wharf gate only reflecting exchange movements
Export sales at the port side in China have increased by US $3 a cubic metre for October sales and likely to remain stable
The US/NZ dollar exchange rate movement over the middle of the year has improved bottom line wharf gate prices by $2 a cubic metre
Shipping remains in a highly volatile space and capacity significantly exceeds demand, although shipping companies are holding out until the last minute to negotiate rates, with the small softening in the last two or three months unlikely to last.
Wharf gate prices have strengthened by six or seven dollars a cubic metre since the last report.
Domestic scene strong but signs of weakness
The apparent price gap for framing grade logs between the North and South Islands continues. Depending on who you talk to it looks like it is $10 to $12 a tonne on average. This is likely the consequence of better recovery into higher density framing timber in the north. A couple of our customers who have operations in the North and South Islands comment they would sooner buy the more expensive logs in the North Island any day. Suggesting that we are much nicer people in the South Island does not seem to sway opinion in this matter.
Price variation also seems to play out within the grade. For the South Island there are rarely five dollars a tonne difference between customers. In the North Island $15 a tonne gap between sawmills for the same grade is not unusual. Spot prices are also paid if demand dictates.
For most regions, supply and demand remains generally in balance. Canterbury has been an exception where a veritable flood of logs to sawmills has seen some having to close the doors. This is a very unusual phenomenon for recent years.
A worrying pattern is emerging with some of my spies suggest those domestic mills with a focus on exports are starting to struggle. This appears to be the consequence of reduced orders due to tariff jitters and timber prices generally under downward pressure. For the moment a lower exchange rate and favourable container rates from New Zealand are keeping them in the game. Some are saying it will not take much to tip the scales and have them leaving the game which would not end well at the forest gate.
China resurgent despite the challenges
The recovery in prices back up to June levels is good news for New Zealand forest growers. Off port sales have been really steaming along at about 95,000 cubic metres a day across the eastern seaboard. This is 12,000 or more cubic metres a day higher than ever recorded for this time of year.
We would expect usage to increase even further in November as the busy autumn construction season continues, but it will slow quite quickly with the onset of winter. It is understood this is the direct result of recent government announcements around multi-billion dollar stimulus packages focussed on internal construction.
Despite the record consumption levels, inventory has been relatively stable as supply has also been through the roof, mainly from New Zealand and Australia. Congestion at ports has been a major problem with delays of up to 10 days waiting for berth space not being unusual. Nett inventory remains at just over four million cubic metres, representing about six weeks supply to the market. This is on the low side based on current usage but with the onset of winter is probably about right.
The tariff game
How tariffs play out over the next six months will dictate much of what happens next. Right now, the mix of tariffs with a focus on logs from the Pacific North West is in the range of five to 10 per cent. This is not causing any noticeable effect so far but it will if it goes to the threatened 25 per cent. This chain reaction will occur if the Trump administration continues to apply trade balancing mechanisms from their side.
The US mid-term elections are the potential catalyst for change and all New Zealand forest owners should watch that space carefully. A significant US businessman client recently suggested to me, despite the fact he has thoughts of Mr Trump that would not be wise to repeat here, he actually hopes the Republicans win. He suggests that if they do, Donald will be a president without power. If they do not win he will be impeached and that is likely to result in war on the streets. The New Zealand trade with China could be positively or negatively affected by the economic turmoil which may potentially play out. If the Republicans win, we should be fine as Congress will censure every Trump move which should soften trade policies.
Pruned logs continue to take the biggest hit from the US tariff impositions, significantly affecting the furniture and mouldings trade into the US. Most commentators are suggesting it could be a long haul before confidence returns in this sector.
At the time of writing in late October, the market indicator A grade shorts logs are generally trading between US$135 and $136. To compare the figures, in May it was US$143 to $144, July US$141 to $142 and September US$131 to $132. This suggests there is still some upside in our midst based solely on recent pricing levels.
Shipping challenges continue
An interesting situation is playing out in the perverse cat and mouse game called ship chartering. On one hand, there is a significant volume over-capacity, on the other hand, ship owners want to increase rates to cover bunker fuel price increases. All of this results in shipping companies holding out until the last minute to accept charters and prices.
In a normal spot ship charter environment, charter party agreements are signed off three to four weeks before the vessel is due to arrive. At present I am seeing some of the last minute charters being settled five days before the vessel is due. In some cases a price is agreed but a vessel is not named until the last minute, giving the owners flexibility around which vessel goes to which port.
When you are the exporter this is nail biting stuff and certainly not for the faint hearted. I call it a perverse game of cat and mouse where you cannot be sure if you are the cat or the mouse. At time of writing it appears more likely we will see some firming in daily hire rates in the Handy Class sector – self-loading log carriers − in the near future.
India market not in good shape
India economic factors are hurting right now. A credit squeeze has hindered the issuing of Letters of Credit and at levels which require multiple ones to cover cargos. This adds to the pot of complexity and uncertainty.
Several shipments have been destined for India at over-supply levels. One shipper was recently caught badly with no Letter of Credit confirmed when the vessel arrived in India and the cargo placed into bond at the port. As might be imagined that was the subject of the odd phone call or two and New Zealand suppliers are now eyeing this market with significant caution.
Other than the fact traders are finding it difficult to establish credit lines to secure log shipments, the market fundamentals remain positive. Demand is good and this market can be expected to return to good shipment levels in the next two or three months. For the moment nett prices at the wharf gate basis are behind China comparatives but this will soon correct itself.
Let us hope the boring state continues
There are many factors which could swing the log trade in the coming months. The New Zealand domestic scene is off the previous highs but is chugging along nicely.Timber prices, tariffs and exchange rates will be a challenge to those sawmills with a focus on export. The mid-terms in the US should be watched closely. For the moment China is chugging along well and outside of Trumpmania should continue, so watch that space.
The bottom line for New Zealand forest growers remains strong with returns continuing well ahead of most other land use industries. It has never been more important the only way forward for climate, country and the planet is to get out there and plant more trees.
Log price table key
Understanding the figures (below)
Domestic prices are per tonne landed "at mill door".
Prices are GST exclusive.
Export prices are per JAS cubic metre landed "at wharf gate".
The absence of data reflects insufficient sales.
Prices above or below those indicated are entirely possible if wood quality exceeds or is below the normal market expectation.
P1 AND P2 grades are pruned logs with a minimum 40cm SED and 34cm SED respectively (note SED = Small End Diameter)
S30 and S20 grades are small branch logs with a minimum 30cm SED and 20cm SED respectively
L30/A30 grades are large branch logs with a minimum 30cm SED
K grade are export logs sold to Korea. KA grade is better grade log with a minimum 30cm SED. K grade are smaller standard multi purpose logs and KI is a large branch large Industrial log.
S30 price for Northern South Island relates to N35 grade
Radiata pine log sales
| NZ$ per tonne | North NI | Central NI | South NI | North SI | Central SI | South SI |
| --- | --- | --- | --- | --- | --- | --- |
| P1 (P36-P38) | 172-192 | 175-190 | 170-180 | 172-180 | 167-175 | 175-185 |
| S30 | 127-146 | 128-135 | 117-125 | 120-126 | 116-122 | 123-131 |
| S20 | 116-121 | 111-116 | 101-106 | 109-113 | 96-101 | - |
| L30/A30 | 101-110 | - | - | - | 95-105 | 100-105 |
| Postwood | 82-95 | 90-100 | 84-94 | 72-90 | 90-100 | 82-93 |
| Chip | 54-59 | 48-52 | 46-51 | 45-50 | 50-54 | 44-48 |
| NZ$ per JAS | | | | | | |
| Pruned (P40) | 189-194 | 191-196 | 179-183 | 181-183 | 171-176 | 173-180 |
| Pruned (P32) | 154-159 | 158-162 | 147-152 | 149-154 | 140-145 | 144-149 |
| A grade | 138-143 | 145-148 | 131-136 | 133-138 | 123-127 | 127-132 |
| CS/KS | 133-138 | 137-142 | 125-130 | 127-132 | 116-121 | 120-125 |
| CI/KI | 121-126 | 125-130 | 115-120 | 117-122 | 109-115 | 113-118 |
| Pulp (CIS/KIS) | 114-119 | 117-122 | 107-112 | 109-114 | 102-107 | 106-111 |
Comparing JAS and a tonne of logs
The conversion rate from a JAS cubic metre and a tonne of logs is usually about 0.95 although this can vary. It depends on −
Stem taper which, for example, is usually less in pruned than second or third log
Summer or winter
North Island or South Island
Soil fertility
Rainfall
Aspect such as sunny or shaded back face.
If we accept an average day, average site and the 0.95 conversion rate, an export log grade comparative for an S30 log sold domestically would need to be about $137 per JAS to compare with a $130 a tonne for a domestic sale.
Macrocarpa log sales
Macrocarpa logs
South Island
Landed at mill door/tonne
North Island
Landed at mill door/tonne
Pruned Min SED 40cm
$350 - $375
-
Pruned Min SED 30cm
$170 - $190
-
Small branch Min SED 30cm
$155 - $160
-
Small branch Min SED 20cm
$125 - $135
-
Large branch/Boxing/Sleeper
$115 - $120
-
Firewood logs
$75 - $80
-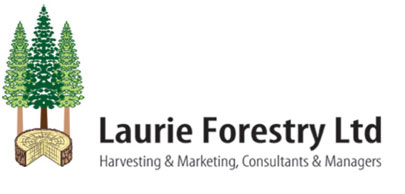 Allan Laurie is the managing director of Laurie Forestry Ltd with over 29 years experience in marketing logs for small to medium growers. www.LaurieForestry.co.nz
(top)