Running Successful Farm Forestry Events: Guidelines for Organisers (PDF)
---
Advertisement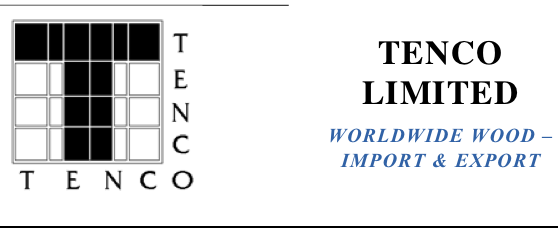 About Tenco
Tenco is one of New Zealand's largest exporters of forest products. We have built to this position since 1991 when the company was set up to export lumber to growing Asian export markets. Experience and reputation count; from small beginnings Tenco has become the largest independent exporter of New Zealand lumber and New Zealand's 4th largest log exporter. Tenco has a regular shipping program of their own log vessels and in combination with these and other ships currently calls at 7 New Zealand ports (5 North Island and 2 South Island).

Tenco buys standing forests. Tenco currently has a number of forests which they purchased at harvestable age to log over a number of years for export and domestic markets. Tenco also regularly buys smaller tracts of forest to harvest immediately or immature forests to hold until harvest time. Tenco is interested in broadening the base of owners from whom it purchases forests and stands of trees. A deal with Tenco is a certain transaction. The owner and Tenco will agree on a value of the tree crop and then Tenco will pay this amount to the owner either in a lump sum amount or on rate per volume unit out-turn from the forest depending on the nature of the tree crop.

Tenco knows there are a lot of farmers who have trees that are close or ready to harvest and will be asking themselves how they should proceed with the sale of their trees. For some farmers the kind of certain transaction with money in the bank could well be appealing. Tenco is actively interested in buying harvestable forests or trees from areas including all the North Island (except the Gisborne and East Coast districts) and Nelson & Marlborough in the South Island .

If you own a forest in this area (16 years and older) and are ready to enter into this kind of agreement Tenco is interested to develop something with you.
Please contact: Josh.Bannan@tenco.co.nz
Work: +64 7 357 5356 Mobile: +64 21 921 595
www.tenco.co.nz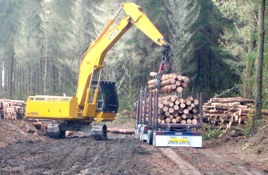 NZFFA Conference 2017
"The Challenge of Diverse Landforms"
Conference 2017 will be held at Feilding, Manawatu, Thursday 6th April - Sunday 9th April 2017. More>>
---
2017 GCFF conference and field trip
Productivity challenges and opportunities in Southern forests
When: 28-30 March 2017,
Where: Otago Museum, Dunedin
The three day "Growing confidence in forestry's future" conference is focused on the challenges and opportunities in Southern forests. Day one consist of two workshops exploring phenotyping, the use of LiDAR and water regulation issues. Day two includes various scientific presentations from Scion staff and invited speakers covering the latest results of the various projects carried out under the GCFF research programme (funded by the Forest Grower Levy Trust and MBIE). On day three various local forests will be visited to provide a backdrop for conversations regarding the factors affecting the productivity and sustainability of the southern planted forest estate. A detailed agenda, and various other information is available from the GCFF website.
If you have any queries, please contact Peter Clinton (peter.clinton@scionresearch.com) for programme enquiries and Mary-Anne Gloyne (mary-anne.gloyne@scionresearch.com), 07 343 5362) for logistical assistance.
Website link
https://gcff.nz/news-and-events/
---
Mid Otago branch AGM
When: Thursday 30 March
the AGM will be held at 5 pm , followed at 5.30 by a site visit to view the use of Cross Laminated Timber in the new Otago Polytechnic Student Village.
Please confirm your attendance for the 30 March Otago Polytechnic meeting to Murray Harris 476 6251/021616605 or landfors@ihug.co.nz
---
Marborough Forest Industry Association field day
When: Saturday 1st April 2017
Programme outline
Guided tour of Kaipupu Point Sanctuary (Picton) Discussion on log yard from over view carpark
Bring your own lunch
Speaker to present on native bats (TBA)
Shallcrass property Linkwater Macrocarpa growing and processing
There is a cost due to boat hire at Kaipupu and speaker cost/donations
$20 per person - cash please
Contact Murray Turbitt for more details
---
Specialty Wood Products Conference - Progress 2 Years In
When: Monday, 3rd April 2017
Where: Holiday Inn Hotel,
10 Tryon Street, Whakarewarewa, Rotorua
Future Forests Research are keen to get investors together for this conference to update you on progress in the Specialty Wood Products programme in its first two years. There will be presentations of results by species and includes plenty of time for questions.

This is your opportunity to engage with the programme, science leaders and industry representatives.

No registration fees, however please RSVP for catering purposes.
RSVP closes Wednesday, 29th March 2017.
---
Innovative Harvesting demonstration field day
When: Monday, 10th April 2017
Where: Ray McDougall's (McDougall Logging Ltd) logging site
in Greenoch Forest, 35 km north of Whanganui (see maps below)
As part of the NZ Farm Forestry Association 2017 Conference, you are invited to a FFR demonstration of sophisticated steepland harvesting on 10th April 2017.
The demo site is at Ray McDougall's (McDougall Logging Ltd) logging site in Greenoch Forest, 35 km north of Whanganui (see maps below).
The harvesting operation consists of a Thunderbird TTY70 yarder and mobile tail hold, a processor and loader. Equipment to be demonstrated includes:
Skyshifter twin winch tail hold carriage (Awdon Technologies Ltd)
New model CutoverCam hauler vision system (Cutover Systems Ltd)
Alpine Grapple Carriage (Logpro Ltd)
HarvestNAV machine navigation system (Margules Groome Ltd)
RopeTalk skyline tension monitor (Logpro Ltd)
New UAV ('drone') technology (Interpine Group)
A marquee will be set up to display the drone view of the harvesting operation, the CutoverCam view of the grappling site, and other video of products which are part of the Steepland Harvesting Programme.

Cost of Field Day: $77.00 ($50 conference registration fee waived)

Cost includes lunch, bus and supply of hard hat and Hi-viz vest for the day, but bring your own if you have them. Sturdy footwear required but we will be viewing the logging operation from a distance and not be on the actual logging site itself.
Registration Options:
Download the conference registration form, fill in your contact details and post with cheque or credit card details to the Conference Registrar, PO Box 254, Feilding 4740.
You can register online with your credit card, but please note that the online system automatically includes the registration fee – if you use this method the registration fee will be refunded directly into your credit card account.
Direct Credit or pay with cash or cheque on the day – email Conference Registrar Jane Priest mdconf2017@nzffa.org.nz to set up these options.
For more information, contact Dougal McIntosh, phone 06 342 1895, email mc.didougal@gmail.com
ITINERARY

Time
Activity
7:45am
Bus departs Feilding Civic Centre
Aorangi Street
9:15am
Bus departs Whanganui from carpark (see map below)
Dublin St Bridge, First
Entrance North of bridge
9:45am
Bus departs Entrance Greenoch Forest
Parapara Highway (SH4)
10:15am
Bus arrives at forest site
10:20am
Safety Briefing
Woody Martin, Arbor Forestry
10:25am
Welcome
Introduction to Demo
Dougal McIntosh, NZFFA
Spencer Hill
10:45am

CutoverCam Demo

Paul Milliken
11:15am
HarvestNAV Demo
Hamish Marshall
11:30am
Drone Demo
Dave Herries, Interpine Group
12:00pm
Lunch (provided by Farm Forestry Association)

Farm Forestry Talk: To prune or not to prune

Peter Martin
(Waverley Sawmill)
12:30pm
Skyshifter Demo
Don Scott, Awdon
1:00pm
New PGP Programme
Keith Raymond, FFR
1:15pm
Field Trip close
Dougal McIntosh, NZFFA
1:30pm
Bus Departs forest site
2:30pm
Bus arrives in Whanganui
4:00pm
Bus arrives in Fielding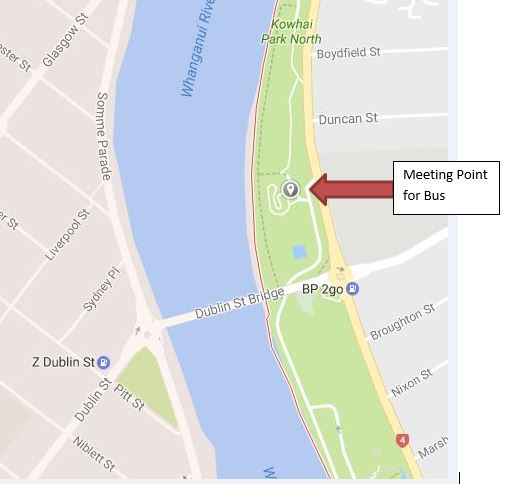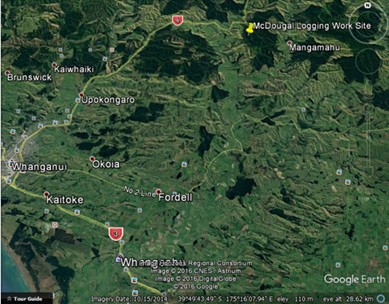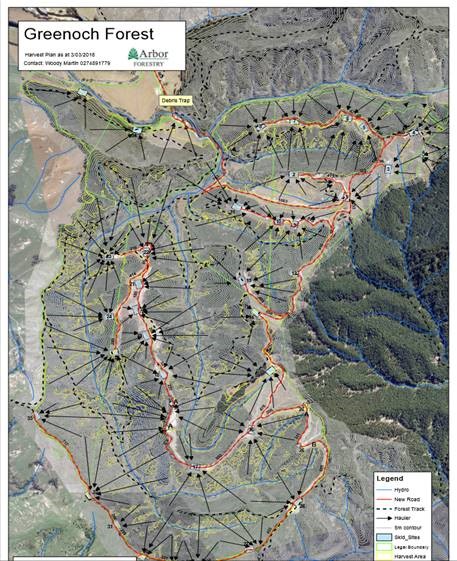 ---
Gisborne East Coast field day
When: May 3rd.-4th.
Where: Tutira Arboretum and other planted areas.
This will be a two day trip to visit the Arboretum and and check on progress since our last visit. We will also see some of the planting that has been undertaken by the H.B.Regional Council on the land surrounding Tutira. There is also an area planted in "Trees for Bees" as well as many other interesting sights to see.
Check out the Tutira Arboretum website: www.guthriesmith.org.nz
Accommodation will be at the Tutira Lodge where we stayed during our last visit; a friendly and comfortable base for our visit.
We will hire a small bus so it will "first in best seats". Book with Nick or John!
Contact Nick Seymour: 862 2697 or John McLean: 868 6440
---
Durable eucalypts on drylands: Protecting and enhancing value
Workshop 19th - 20th April 2017
Marlborough Research Centre, Blenheim
NZ Drylands Forestry Initiative are planning a workshop to update all those interested in the exciting and fast-moving developments in durable eucalypt research.
Wednesday 19th April:
A full-day indoor programme, with presentations by New Zealand and international research scientists and technical specialists. Topics will include:
Siting and microclimates
Eucalypt defoliation by insects: impacts and monitoring
The NZDFI breeding plan
Early selection for growth-strain
Propagation
Early heartwood and extractives
Heartwood and durability
Down-stream opportunities: LVL requirements and markets
Thursday 20th April:
We plan a visit to see some of our research in action in the field, followed by a tour of LVL producer Nelson Pine International, which is trialling durable eucalypts for its laminated products.
Mark these dates in your diary!
April 19th - 20th 23017
For more information contact Dr Clemens Altaner clemens.altaner@canterbury.ac.nz
---