---
Advertisement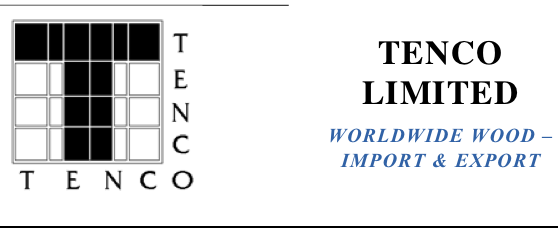 About Tenco
Tenco is one of New Zealand's largest exporters of forest products. We have built to this position since 1991 when the company was set up to export lumber to growing Asian export markets. Experience and reputation count; from small beginnings Tenco has become the largest independent exporter of New Zealand lumber and New Zealand's 4th largest log exporter. Tenco has a regular shipping program of their own log vessels and in combination with these and other ships currently calls at 7 New Zealand ports (5 North Island and 2 South Island).
Tenco buys standing forests. Tenco currently has a number of forests which they purchased at harvestable age to log over a number of years for export and domestic markets. Tenco also regularly buys smaller tracts of forest to harvest immediately or immature forests to hold until harvest time. Tenco is interested in broadening the base of owners from whom it purchases forests and stands of trees. A deal with Tenco is a certain transaction. The owner and Tenco will agree on a value of the tree crop and then Tenco will pay this amount to the owner either in a lump sum amount or on rate per volume unit out-turn from the forest depending on the nature of the tree crop.
Tenco knows there are a lot of farmers who have trees that are close or ready to harvest and will be asking themselves how they should proceed with the sale of their trees. For some farmers the kind of certain transaction with money in the bank could well be appealing. Tenco is actively interested in buying harvestable forests or trees from areas including all the North Island (except the Gisborne and East Coast districts) and Nelson & Marlborough in the South Island .
If you own a forest in this area (16 years and older) and are ready to enter into this kind of agreement Tenco is interested to develop something with you.
Please contact: Josh.Bannan@tenco.co.nz
Work: +64 7 357 5356 Mobile: +64 21 921 595
www.tenco.co.nz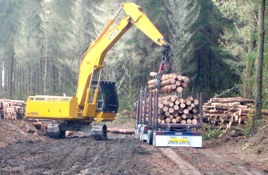 President's comment, November 2012
Ian Jackson , from New Zealand Tree Grower November 2012
As we move into the warmer months we seem to have been greeted with a cool wet season. The world economy is stumbling along, which is mirrored by the agricultural markets where every positive seems to be matched by a negative. The log markets appear stable at about the 10 year average, with a recent small welcome rise in pruned prices. Supposedly the Chinese have discovered the attributes of clear radiata.
NZFFA matters
Your executive continues to work at keeping the association running and representing member's interests at all levels. A Wellington based 'ginger group' led by Hamish Levack has been established to investigate ways of managing the production spike in the 2020s.
During the 2020s New Zealand's production will go from the present day 24 million tonnes a year to 36 million tonnes. Much of this increase will be from small-scale forest owners for whom the only established representative is the NZFFA.
The other issue for the ginger group is how to make the government aware of the need to get new planting back up to a reasonable level. This is so that after the production spike there will not be a collapse in the infrastructure set up during that time.
The action group weekend will be held in Taupo on 17 and 18 November. This is always a good time to get down to the technical aspects of growing alternative species. The NZFFA Executive will hold a meeting in conjunction with this weekend.
The annual conference next year will be hosted by the Lower North branch, based at Orewa. The programme looks very interesting and a highlight will be a visit to the former Neil Barr property where it all began. Organiser Peter Berg has gained permission for us to visit from the owner Alan Gibbs. It is time to get organised and get your bookings done, using the form in this issue of Tree Grower. Remember we also want entries for the Landcare Trust award in the north and Husqvarna Farm Forester of the Year entries anyway.
Website
The website is looking better all the time. Members can now register and enter a secure members' area which has back copies of Tree Grower, access to the Future Forest Research information, a member's forum and newsletters. Dean Satchell's timber marketplace is now live and looks impressive.
There are examples of a wide range of alternative species used in joinery and furniture. Check it out at nzffa.org.nz/specialty-timber-marketplace. The new website features are giving NZFFA good exposure in the wider community, with viewing levels reported to be brisk.
Commodity levy
The promotion of a commodity levy and its format are crystallising and gaining momentum. A vote will probably go out to all forest growers in March next year after a communication campaign. This NZFFA is 100 per cent behind the levy and is in partnership with Forest Owners Association in its implementation. Any future levy is not just for the corporate forester, but will be of benefit to the entire forest industry.
Emissions Trading Scheme
The Executive, led by Wellington member Hamish Levack, made an excellent submission in the recent review process. This submission highlighted the complete ineffectiveness of the ETS, and instead of promoting forestry it was now almost a disincentive because of high compliance costs.
The unrestricted import of cheap foreign credits has been well documented in the media, but the select committees response to the whole process has been one of 'so what, we have made up our mind and are moving on'. What appeared to be a golden light for forestry is at the moment consigned to history. Trees will again be planted for the right reasons and in the right areas, instead of for the dubious carbon investment market.
I wish you all well for the festive season, and look forward to seeing as many as possible at the Orewa conference in April.
(top)