Excellent stewardship by the Garlands: Conference 2007 field day
Harley Gray, New Zealand Tree Grower May 2007.
Bill and Sue Garland have been farming this property since 1968, although most of it has been in the family since 1946. The farming operation has 365 hectares of grazing where the 5,500 stock units produce a relatively high performance.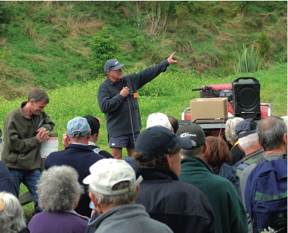 There are three QEII blocks on the property and a pest proof fence along the boundary of the Maungatautari ecological reserve. Bill has recently retired from nine years as a director of the QEII Trust.
In the 1970s floods, land slipping led to the development of a land management plan with the Waikato Valley Authority. Poplar poles were planted and bush areas fenced off. Bill and his brother were dissuaded from a youthful enthusiasm for clearing and grazing. A far sighted father said that the gully areas would need replanting in the future, and water would become a scarce resource.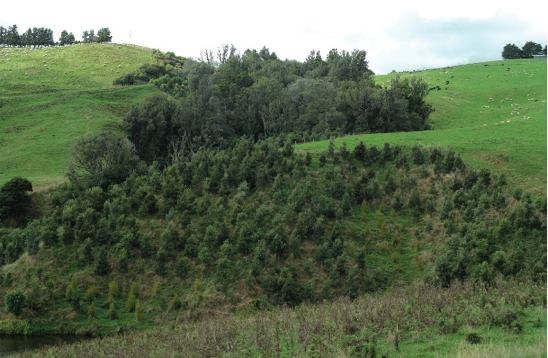 When an adjoining block of 140 hectares was added, this included a 13 hectare area of low fertility, with steep contour, and a generous covering of weeds including gorse, blackberry and ink weed. Options included intensive farming, or mining the fertility until the gorse took over and allow reversion to native bush. This was the most economic option, but the preferred path was to retire the native areas and develop the balance as forestry.
Forestry option
Forestry was chosen for aesthetic, environmental and recreational purposes. However an economic return was particularly important for Bill and Sue's partners in the venture, Paul (Bill's brother) and Lynn. The potential benefits of carbon credits were a factor in the decision to plant trees. The partnership meets the costs of forestry development and owns the forestry rights. The company P F Olsen was contracted to set out a development plan and gain the necessary consents. PF Olsen now manages the planting and silviculture. This enables the partners to continue their core businesses of farming and contracting activities while being confident that the forestry operation will be properly run.
Roads were metalled to stop sediment runoff, and in adjacent areas culverts were established to stop stock crossing streams and endangering water purity. Gorse was cut by hand, and regeneration encouraged before it was sprayed and burned. Fertiliser was applied and the area sown in grass to suppress regrowth of gorse. Gorse now appears only when trees are released. Six kilometres of fencing was subsidised by the QEII Trust and Environment Waikato. The total area of this forest is 15 hectares.
Planting guidelines
While the long term objective was to harvest for timber, aesthetics were also very important. No trees were to be planted on the skyline, species selected were to be in harmony with the landscape and adjacent native bush, and edge plantings of natives were done to reduce the visual impacts of woodlots, particularly after pruning and harvesting. Long rotation species were preferred, and harvesting would be staggered over time to reduce the visual impact. Planting took place over between 2001 and 2003.
Species were located taking into consideration site fertility, shelter, and appearance. Harvesting sequence was a crucial consideration. Blackwood will be harvested in around 40 years, but for some of the natives harvesting will not be for around 200 years. Access and retrieval without damaging trees with a high long term capital investment has to be well planned.
Native plantings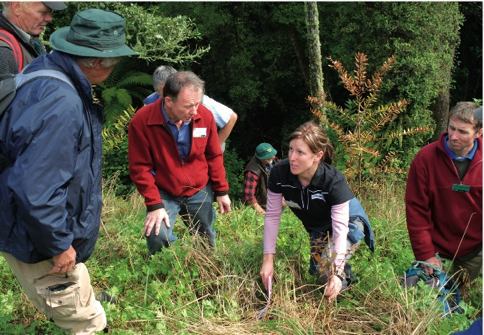 Kahikatea, rimu and totara are the main species, although kauri and tanekaha are also being grown. No nurse crop or interplanting with another other species is being employed, but site selection has been done with care. Many would suggest that an advantage could be gained by providing a nurse for totara.
Most of the trees were about a metre high in PB5 or PB6 bags. Survival and growth were impressive, particularly for the kauri, but the cost of up to seven or eight dollars per tree would be a disincentive for some. Releasing has been carried out at least annually.
The totara have responded well to form pruning. The proposed MAF registration of native plantings for future milling will be a relevant consideration for these trees.
Exotic species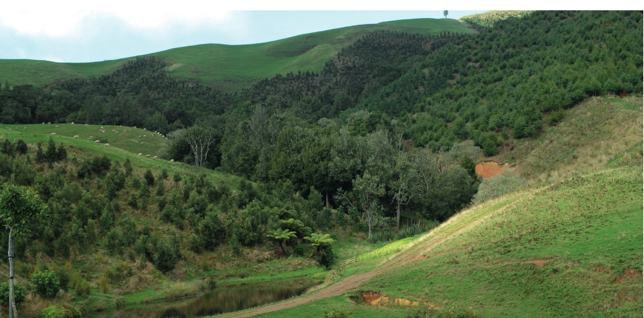 The principal species are Cupressus lusitanica and blackwood, Acacia melanoxylon. There has been some wind damage to the lusitanica in upper areas. Toppling correction operations were completed by cutting off the main leader and allowing a dominant branch to obtain apical dominance. Many, but not all of these trees have done well. The stand established in 2001 has had two clear wood lifts to an average height of 2.4 metres and a third prune is in progress. The stand of lusitanica planted in 2003 has had a first lift to 1.8 metres. Planting was at 1200 stems per hectare. Cupressocyparis ovensii planted at the same density have done well. In discussion it was noted that in hindsight more of these hybrids would have been planted at the expense of the lusitanica. Neither of the cypress species has developed canker to date.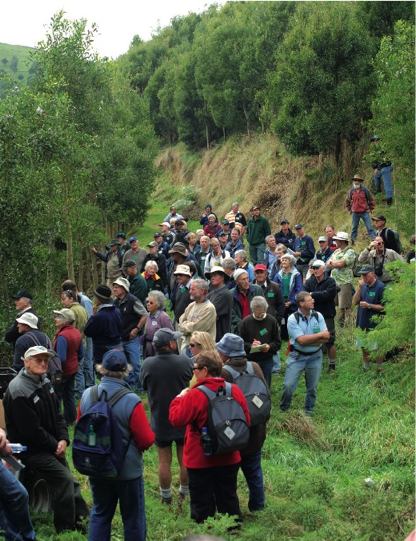 There are five hectares of blackwood established at 1600 stems per hectare. Regular form pruning has been done to ensure a single dominant leader. Ian Nicholas made a strong plea for gauge pruning removing all branches greater than 30 mm. This regime ensures a single leader, means that unskilled staff can be employed, and reduces the amount of clear wood pruning required.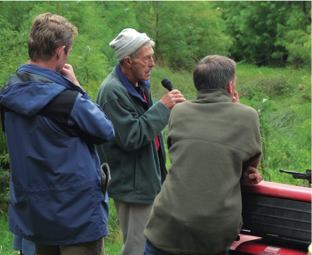 Other species included Eucalyptus fastigata. Richard Davies-Colley spoke up and explained that this area would be very suitable for fastigata. For logs with a small end diameter over 60 cm the price would be very good as there is a shortage of top quality logs. He implored everyone to have faith when growing trees as the market will change over the years.
Water quality
The new plantings and the stock exclusion programme have significantly reduced the sediment in streams, and there has been no flooding of the adjacent public road since these measures were taken. However, it is important to note that the water is still not potable because of high coliform and campylobacter counts. Regulations and purity standards will need to take local conditions into account. A one size fits all approach does not seem to be feasible.
Excellent stewardship
Bill and Sue Garland have excellent stewardship plans for the property. The new forest will significantly enhance the visual appeal, and great care has been taken with species selection and siting. The use of a professional forest manager for a planting which could be undertaken by a farm owner ensures that forestry expertise is applied to the project, and the partners can pursue their businesses.
Bill emphasised that it is rewarding to have a company which manages the property as he would do himself and the forest is FSC certified under the PF Olsen group scheme. The only note of caution is that with the wide range of species grown, practices based on large scale forestry activities could lead to management regimes which would differ from a typical farm forester's approach. Only the owner will be familiar with the niche microclimates which will make a success of the enterprise.